Description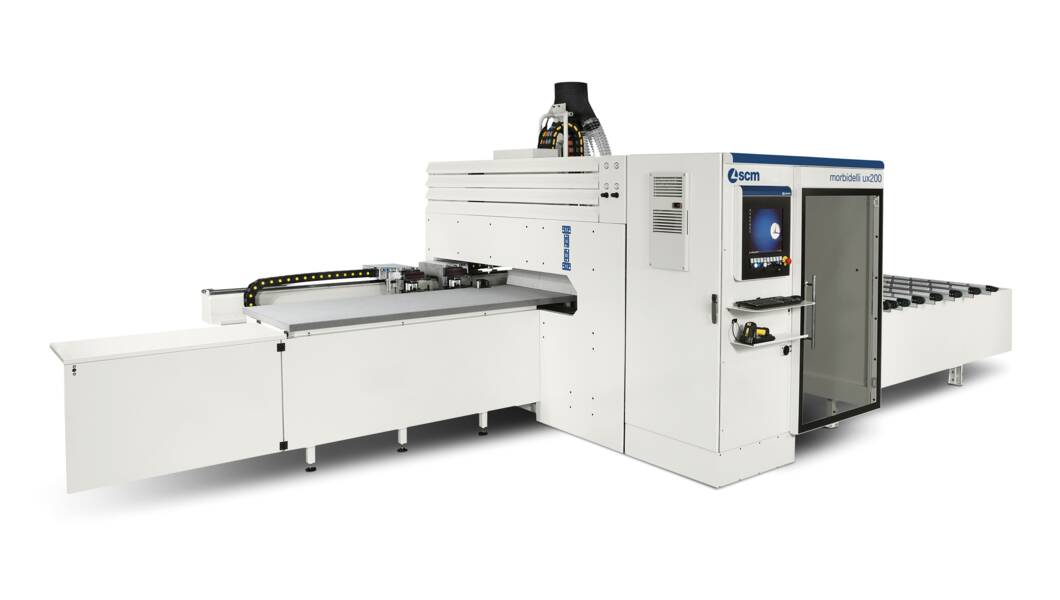 Machining centre realized to satisfy all the operations of drilling, routing, cutting and hardware insertion, the only one in which the high efficiency of a through-feed drilling machine joined to the maximum flexibility of a machining centre lead to the maximum performance. It is equipped with two upper and lower drilling units to allow simultaneous machining on TOP/BOTTOM faces.
Thanks to the highest versatility and to the different displacement systems of pieces with automatic loading-unloading devices morbidelli ux200 can be integrated into a production line as well as working as a stand-alone machine.
Advantages
OPTIMISATION AND REDUCTION IN CYCLE TIMES: HOLD-DOWN GRIPPER
The panel hold-down grippers with X independent movement allow drilling and routing operations also in positions inside the gripper area thanks to new geometry, optimizing the re-clamping of the workpiece, reducing the cycle times and allowing to process on all 6 faces of the panel.
THE PERFECT DRILLING: RO.AX SPINDLE
Zero play during machining with the new RO.AX technology (Rotoaxial spindle technology), the most efficient spindle on the market with rotation speeds up to 8000 rpm. The sturdiness of drilling heads is proven by the reduced maintenance costs: five times less than that imposed by the majority of other machine manufacturers.
Technical data
| | | |
| --- | --- | --- |
| Working area | mm | 3000×1300 |
| Max. panel thickness | mm | 80 |
| Drilling unit | n. | 2 |
| Integrated optional unit (max.) | n. | 4 |
| Independent optional unit (max.) | n. | 2 |
| Independent vertical spindles (on each drilling group) | n. | 48 |
| Independent horizontal spindles (on each drilling group) | n. | 18 |
| Saw-blade unit motor power | kW | 2,2 |
| Electrospindle motor power | kW | 6,6 |
Case History