Description
sergiani 3d form complete range for 3D panels laminating, both with veneer and pvc or abs. Possibility to work with or without membrane, coupled depressure/pressure cycles depending on the product to press.
Advantages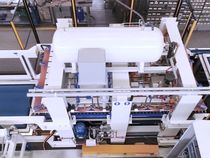 POSSIBILITY TO ADD UP TO 3 TRAYS TO INCREASE PRODUCTIVITY
Many solutions available designed on demanded productivity. All solutions grant the best gluing quality.
AUTOMATIC PIN SYSTEM
Designed in order to avoid the use of counter-shapes. In the loading group the automatic pvc positioner is supplied with scanning system that detects the position of the panels. Consequently pin inside the press are set.
Technical data
| | | | | | | |
| --- | --- | --- | --- | --- | --- | --- |
| | | 3d form 25 – 14 | 3d form 30 – 14 | 3d form CA 25 – 14 | 3d form CA 30 – 14 | 3d form CA 32 – 14 |
| Platens dimensions | mm | 2340×1340 | 2840×1340 | 2340×1340 | 2840×1340 | 3200×1340 |
| Max. panel dimensions | mm | 2240×1240 | 2740×1240 | 2240×1240 | 2740×1240 | 3100×1240 |
| Thrust | ton | 200 | 300 | 200 | 300 | 500 |
| Working chamber height | mm | 60 | 60 | 60 | 60 | 60 |
| Pressure | kg/cm2 | 5 | 5 | 5 | 5 | 8 |
| Pistons | | 4-140 | 6-140 | 4-140 | 6-140 | 8-140 |